Table of Contents
Introduction to Foo Fighters
The Foo Fighters are one of the most renowned and influential rock bands to emerge in the past 30 years. Formed in 1994 by former Nirvana drummer Dave Grohl following the death of Kurt Cobain, the Foo Fighters established themselves at the forefront of alternative rock with a signature mix of melody, energy, and passion.
Over the course of 10 studio albums, the Foo Fighters have honed a sound that incorporates elements of punk, metal, and straightforward rock and roll. Songs like "Everlong," "My Hero," and "Learn to Fly" showcase the band's stellar songcraft and musicianship. Though the Foo Fighters have evolved over the decades, they've retained a knack for arena-ready anthems and an engaging live show.
The Foo Fighters were inducted into the Rock and Roll Hall of Fame in their first year of eligibility in 2021, acknowledging their lasting impact on rock music. As of 2022, they've sold over 30 million records worldwide, cementing their status as one of the most commercially successful bands of the modern rock era.
Foo Fighters Members
While singer, guitarist, and principal songwriter Dave Grohl is the constant foundation of the Foo Fighters, the band has undergone several lineup changes over the years. Various musicians have contributed to recording sessions and live performances.
The current Foo Fighters members are:
Dave Grohl – Vocals, guitar
Nate Mendel – Bass
Pat Smear – Guitar
Chris Shiflett – Guitar
Rami Jaffee – Keyboard
Taylor Hawkins – Drums
Original drummer William Goldsmith and guitarist Franz Stahl were official members in the band's early years, appearing on the 1997 album The Colour and the Shape. Guitarist Pat Smear, who had also played with Nirvana, was an original Foo Fighters member but left in 1997, returning again as a full-time member in 2010.
Other musicians who have recorded or toured with the band include keyboardist Rami Jaffee, drummer Taylor Hawkins, and guitarists Chris Shiflett and Pat Smear. This fluid lineup highlights Grohl's leadership while allowing for evolution and experimentation over the decades.
Foo Fighters Discography
The Foo Fighters have released 10 studio albums along with a range of live albums, compilation albums, EPs, and videos. Their discography showcases the band's development and success:
Foo Fighters (1995)
The band's self-titled debut introduced their alternative rock sound with singles like "This Is a Call" and "I'll Stick Around." The album reached platinum status.
The Colour and the Shape (1997)
With radio hits "Monkey Wrench" and "Everlong," their second album established the Foo Fighters as major rock hitmakers. It also incorporated heavier, noisier elements along with melodic songs.
There Is Nothing Left to Lose (1999)
This third album saw the band expand their songwriting, exemplified by the singles "Learn to Fly" and "Breakout." A more polished, pop-friendly sound emerged.
One by One (2002)
After a brief hiatus, the Foos returned harder and heavier with this album and its hit "All My Life." The recording was difficult but produced popular singles.
In Your Honor (2005)
A double album divided into rock and acoustic sets, In Your Honor spawned hits like "Best of You" and contained explorations of new sounds.
Echoes, Silence, Patience & Grace (2007)
Continuing a more diverse approach, the Foos won Grammys for this eclectic album and its single "The Pretender."
Wasting Light (2011)
Recorded analog on vintage equipment, Wasting Light was a back-to-basics album that debuted at number 1 on the charts.
Sonic Highways (2014)
This conceptual album was created in eight cities around the U.S. and wove in local musical influences. It spawned an accompanying HBO documentary series.
Concrete and Gold (2017)
Produced with Greg Kurstin, Concrete and Gold integrated pop influences into the band's sound and featured hit single "Run."
Medicine at Midnight (2021)
The Foos' most recent release incorporates synth-pop, disco, and classic rock into a bold evolution of their sound.
Foo Fighters Tours
The Foo Fighters established a reputation as an incendiary live act early on, relentlessly touring behind their albums. Some of the band's major concert tours over the decades include:
Foo Fighters First Tour (1995)
The band's initial club and theater tour supported their debut album. Their raw energy and charisma as a fledgling act earned them a growing following.
The Colour and the Shape Tour (1997-99)
Extensive touring behind their second album took the Foo Fighters from theaters to arenas as their popularity grew.
There Is Nothing Left To Lose Tour (1999-2000)
This tour saw the Foos graduate to headlining amphitheaters and arenas, establishing themselves as a premier U.S. rock act.
One by One Tour (2002-04)
Following their hiatus, this lengthy tour visited arenas and festivals worldwide and re-cemented the band's reputation.
In Your Honor Tour (2005-06)
The Foos' two-legged tour showcased their acoustic and electric sets in arenas and outdoor spaces worldwide.
Echoes, Silence, Patience & Grace Tour (2008-09)
Following the success of their diverse 6th album, the Foos embarked on a major international tour playing stadiums and headlining festivals.
Wasting Light Tour (2011-12)
Boosted by their back-to-basics album, this tour saw the band continue to successfully headline arenas and festivals globally.
Sonic Highways World Tour (2015)
Coinciding with their HBO series, the Foos performed each song from the new album in the city it was recorded.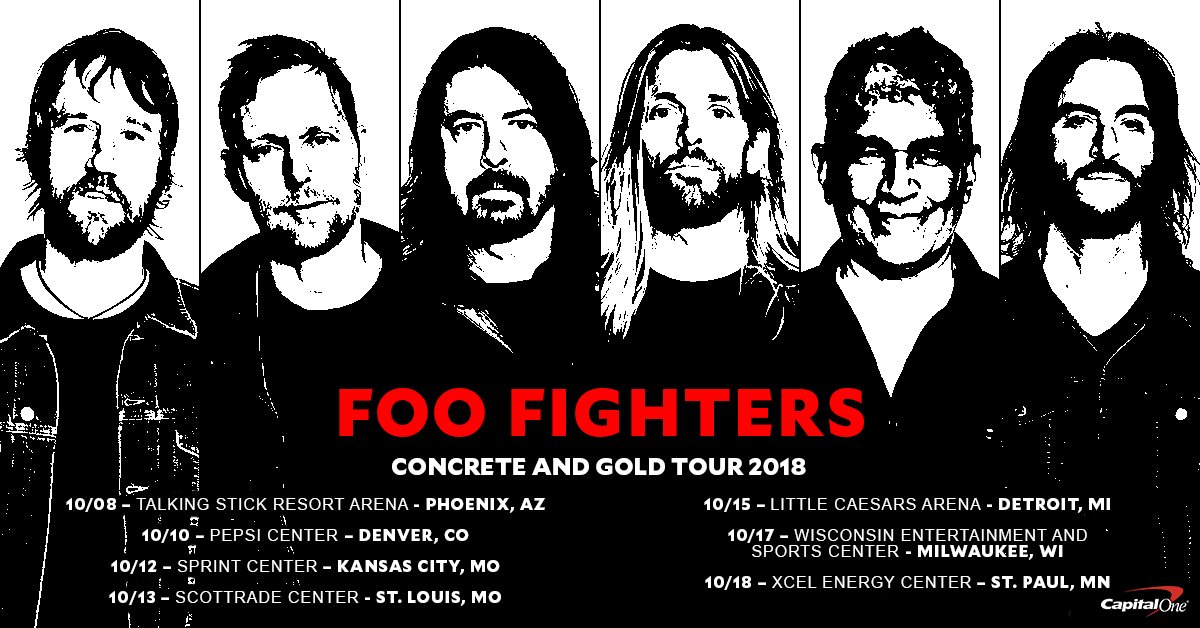 Concrete and Gold Tour (2017-18)
Following the pop-influenced Concrete and Gold, this massive tour saw the band perform at arenas and stadiums for over 100 shows.
Van Tour (2021)
In this unconventional tour, the Foos simply loaded up a van and showed up unannounced to play surprise gigs at small venues across the U.S.
Over nearly three decades of consistent touring, the Foo Fighters have honed a reputation for energetic, passionate, and fun-filled live shows. Their non-stop road work has helped them build one of rock's most devoted global fanbases.
Foo Fighters Facts
Over their illustrious career, the Foo Fighters have racked up some impressive stats and achieved major milestones:
Have won 12 Grammy Awards, including 4 for Best Rock Album
Their first two albums have sold over 10 million copies each in the U.S. alone
Have had 4 number 1 albums on the Billboard 200 charts
Billions of YouTube views of hits like "Everlong," "Times Like These," and "Best of You"
Concrete and Gold (2017) marked their second album to debut at number 1
The only band to be nominated for Grammys in Alternative, Rock, and Pop categories in the same year (thanks to Concrete and Gold)
Dave Grohl was inducted into the Rock Hall twice – once as part of Nirvana and once for Foo Fighters
Have headlined major festivals worldwide including Glastonbury, Lollapalooza, and Rock in Rio
Took home 3 Grammys in 2022 for Best Rock Performance, Best Rock Song, and Best Rock Album for Medicine at Midnight
Ranked No. 59 on VH1's 100 Greatest Artists of All Time list
Their June 2022 London concerts broke the attendance record for stadium shows in the city
The band went on hiatus from music for several years following their grueling One by One tour before returning revitalized with In Your Honor. They've acknowledged nearly breaking up permanently during the fractious recording of One by One.
Despite lineup changes over the decades, frontman Dave Grohl has remained the Foo Fighters' driving force and constant from the beginning. His songs and singular band leadership define their sound and identity.
Legacy and Impact
With over 30 million records sold worldwide and 12 Grammy wins, the Foo Fighters have proven one of rock music's most durable and consistent acts over the past quarter century. Their continued popularity decades into their career is a testament to the broad appeal of their music.
As modern rock radio and music videos declined in the 2000s, the Foo Fighters were among the few bands able to adapt and thrive as the industry changed. Their studio craft and energetic live performances have maintained the band's popularity with younger generations.
Songs like "Everlong" and "Times Like These" have taken on anthemic status among Foo Fighters fans. Dave Grohl's everyman charisma and the band's heartfelt songs have inspired devotion over the years.
The Foo Fighters' sound melds accessible melodic hooks, raw punk energy, and a hint of metal aggression. This balance has made them heroes among both pop and hardcore rock crowds. Their emotional, relatable lyrics likewise bridge genres.
As Grohl and Cobain's generation of musicians age, the Foo Fighters now stand alongside Pearl Jam and Radiohead as leaders in carrying the alternative rock torch. They've paved the way for a younger wave of bands similarly blending rock urgency with pop hooks.
The Foo Fighters' MTV Unplugged session and subsequent acoustic venture also sparked a wave of rock bands experimenting with mellower sounds. However, the band's electric arena shows remain their trademark appeal.
With their 2013 HBO documentary Sound City and Sonic Highways series, Foo Fighters expanded into new media as the industry evolved. Despite their longevity, they have continually found new ways to connect with audiences.
After Nirvana's sudden end, few expected Grohl could start another generation-defining rock band. The Foo Fighters now stand poised to carry that mantle of timeless rock influence into the future. That rare achievement confirms their status as true icons and innovators of modern music.
Listen to Foo Fighters
Social Links